[CDS] 23/06/17: DUELIST SAGA: Contract with Don Thousand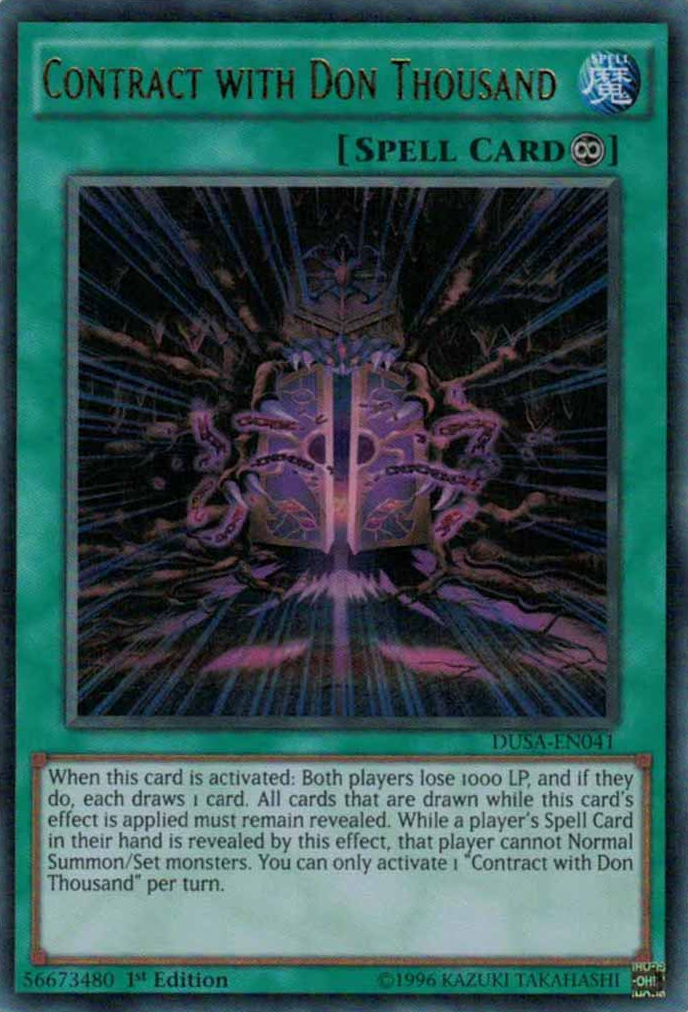 comentarios iniciais


ola raiders! vamos começar uma nova serie de reviews! Vamos começar analisando as cartas mais quentes do set especial chamado DUELIST SAGA ! Esta semana vamos ver Contract with Don Thousand!!

LETS GO!!!





analise de status:


carta continua tipo spell; sem buscadores especificos, obte-la depende da sorte. alem disso é facil interromper o seu efeito usando removedores em chain. a arte da carta traz a siglistica do don thousand, o ultimate bad boy de yugioh zexal.






analise de efeitos





When this card is activated: Both players lose 1000 LP, and if they do, each draws 1 card.


triguer efeito que se ativa apos a ativaçao da carta; causa burn damage e draw effect a ambos players



All cards that are drawn while this card's effect is applied must remain revealed.


efeito continuo que obriga ambos players a duelarem com as cartas reveladas



While a player's Spell Card in their hand is revealed by this effect, that player cannot Normal Summon/Set monsters.


bloqueio de normal summon (lockdown da carta)



You can only activate 1 "Contract with Don Thousand" per turn.


restriçao de uso



analise de jogabilidade: moderada


todas as cartas de don thousand (verdadeiras ou do anime) tem efeitos muito malucos! Esta aqui tambem naum é excessao.

o efeito de burn damage e apenas razoavel; mais interessante é o efeito de draw power pra burn e exodia decks, principalmente. A parte ruim é que ele penaliza/beneficia ambos players.

a segunda parte da carta obriga ambos players a manterem reveladas as cartas que sacarem. pra decks com "win condition" como exodia, isso é muito ruim. tambem é ruim pra stall burn decks por causa do proximo efeito dessa carta que eu vou explicar em seguida. POREM pode ser util pra vc ter uma ideia melhor do que tem na mao do oponente e, de certa forma, prever seus proximos movimentos (isso é claro so funciona se vc ja estiver familiarizado com o arquetipo que o oponente estiver jogando)

ela faz um lockdown suave quando o oponente saca spells; ela o proibe de realizar summon normais e setar monstros. isso so funciona quando o ratio monstro/spell/trap favorece o numero de spells. quando o oponente usa trap decks (paleozoic) ou monster decks (water full, stargrail) , vc naum vai conseguir usar esse efeito com proficiencia. Portanto ela afeta decks cujo conteudo (40 cartas) seja pelo menos 50% composto por spells (20 cartas). De cabeça eu poderia citar os seguintes decks que ainda usam uma linha extensa de spells: fire kings, six samurais, true dracos, zoodiac puros e HEROS.

devido a sua natureza continua, vc pode usa-la como draw engine em decks metalfoes e true draco. E destrui-las na sequencia (metalfoes pendulum effect ou draconic diagram) antes que a penalidade da carta o afete (muito embora existam cartas de draw menos embaçadas de se usar). Ela ainda pode ser usada no tribute summon dos true dracos ou de master peace tambem.

pra criar lockdowns mais extremos , pode-se combina-la com vanity emptiness (travamento de special summons ) muito embora apenas stall burn decks se beneficiem dessa manobra (pois a win condition é obtida atraves de burn efeitos e naum atraves da batalha). se adicionada ao combo "anti-spell fragancy+ dark simorgui" a coisa fica ainda mais ruim pois o oponente naum pode setar spell ou traps e enquanto tiver um spell revelado na mao tambem naum pode fazer normal summons.

é uma carta bem bizarra vou te dizer. tem seus usos, claro, pois nenhuma carta é absolutamente inutil em yugioh mas mesmo assim , estes sao muito poucos.....

Nota da carta: 4/10





numero de copias no main deck:

3 unidades



decks recomendados:

exodia, stall burn



video E decks samples:



Contract with Don Thousand: I lose 1000 and my opponent STILL DRAWS?!? THAT AIN'T RIGHT!
https://www.youtube.com/watch?v=-RJutqo9kMc

Contract with Don Thousand might become the next big card used for Troll/Cheese decks
https://www.youtube.com/watch?v=jUCelnFmid4

Thunder Lock Down (With New Contract with Don Thousand) + Deck List/Profile
https://www.youtube.com/watch?v=bHPE6beCD6Y

NEW CARD Don Thousand! NEW LOCKDOWN! MAKE IT SO THEY CANT YUGIOH 2017! CHEESE DECKS! GOOD IN BURN!T
https://www.youtube.com/watch?v=hbfraSHChEk

CONTRACT WITH DON THOUSAND LOCKDOWN!!! PLUS DECK PROFILE
https://www.youtube.com/watch?v=TxL6KOdhyGQ

El deck con el que ganas DEJANDO ROBAR A TU OPONENTE. ¡DRAW KILL! Yu Gi Oh! Ygopro
https://www.youtube.com/watch?v=k_KkLNQyZRk



COMENTARIOS FINAIS


voltamos em breve com mais duelist saga pra vcs



ESCRITO POR WOLTARR